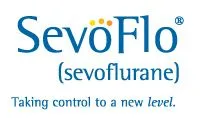 Our clinic has added a new gas anesthetic for dogs called SevoFlo™ (sevoflurane). SevoFlo™ is the most recently introduced and safest inhalant anesthetic available in veterinary medicine. Sevo provides for a more rapid, and thereby smoother anesthetic induction as well as a smoother recovery period. Sevo also allows for very precise control and adjustment of anesthetic depth. Sevo has minimal effects on the heart and respiration and is required for those pets 7 years of age and older and those with known health concerns.
For more information, please contact us or visit the SevoFlo™ page on the Abbott Animal Health Website.
Benefits of SevoFlo™
Safety - SevoFlo™ allows us to adjust the depth of anesthesia both easily and rapidly. It is also compatible with many other intravenous anesthetics, and has minimal effect on the heart and respiration when compared with other inhalation anesthetics.
Speed - Because of its low solubility coefficient, SevoFlo™ can quickly enter the bloodstream and can be rapidly eliminated from the lungs.
Ease of Use - With its non-pungent odor, SevoFlo™ provides ease of use with mask inductions.
Contact us to find out more about SevoFlo™ and to determine if it is the right anesthetic for your dog.